An online news portal, bestnewsgh.com, has published a story suggesting that former president and presidential candidate of the National Democratic Congress (NDC), John Dramani Mahama, has invited the second lady of Ghana, Mrs. Samira Bawumia, to a debate.
The portal reports that Mr. Mahama called for the debate on March 10, 2020, on his twitter handle, claiming that the second lady has been engaging in propaganda.
"In 2016 she came to do her propaganda and we left her because she is a woman. Samira Bawumia seems to have started launching herself in the political discourse again. We welcome her, but she should be prepared to debate me then," the former president is reported to have tweeted.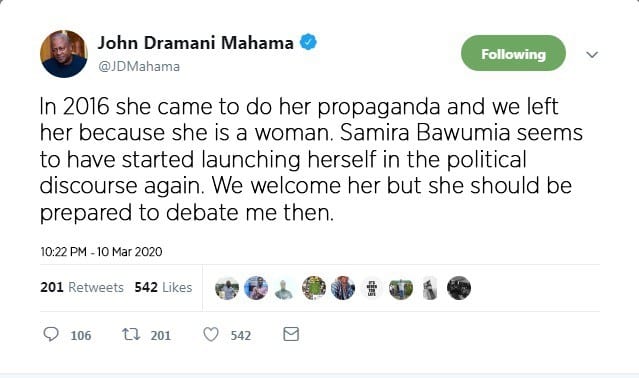 The story has since its publication been circulated across various social media platforms.
Fact-check Ghana has verified the story and concludes that it is false.
Explanation: The fact-checking verified the story by crosschecking from the official twitter account of the former president, @JDMahama. The verification showed that Mr. Mahama has made no such tweet. Indeed, on the said date, March 10, when he is alleged to have called Mrs. Bawumia for the debate, his twitter handle made no tweet at all.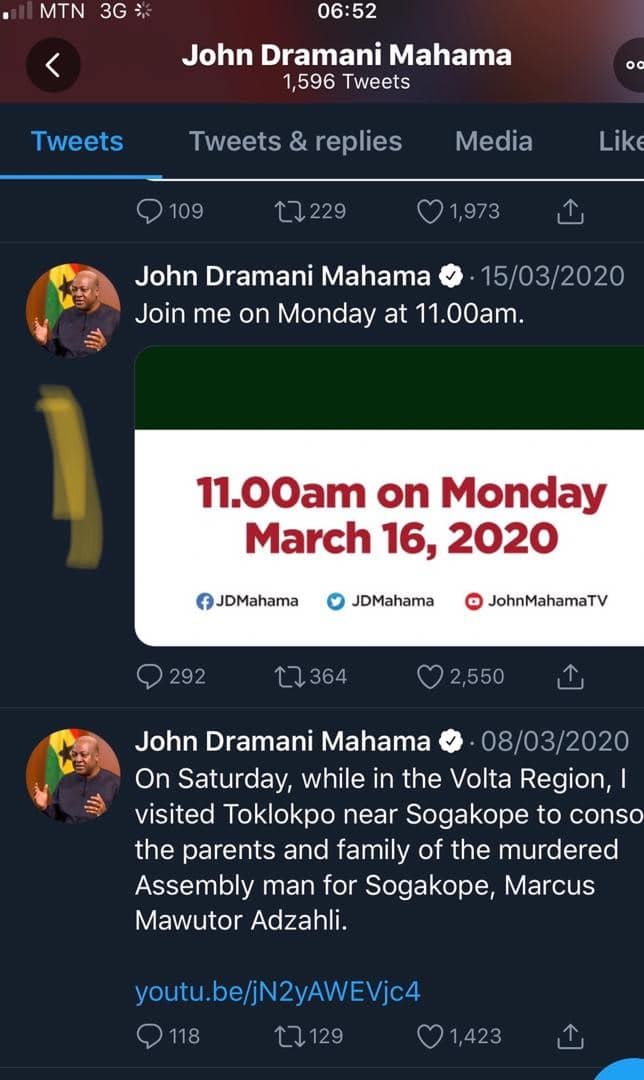 The closest tweet on his handle to the said date was on March 8, when Mr. Mahama talked about his visit to Toklokpo in the Volta Region to commiserate with the parents of an Assemblyman of Sogakope who had been murdered.
His next tweet was on March 15, when he invited his audience to join him in a digital conversation the following day.
Also, a google search of the story indicates that no credible media source has published a similar story.
This is a fake tweet designed with the former President's handle as has been done with social media accounts of some notable political figures in the past.